For academic papers, see Publications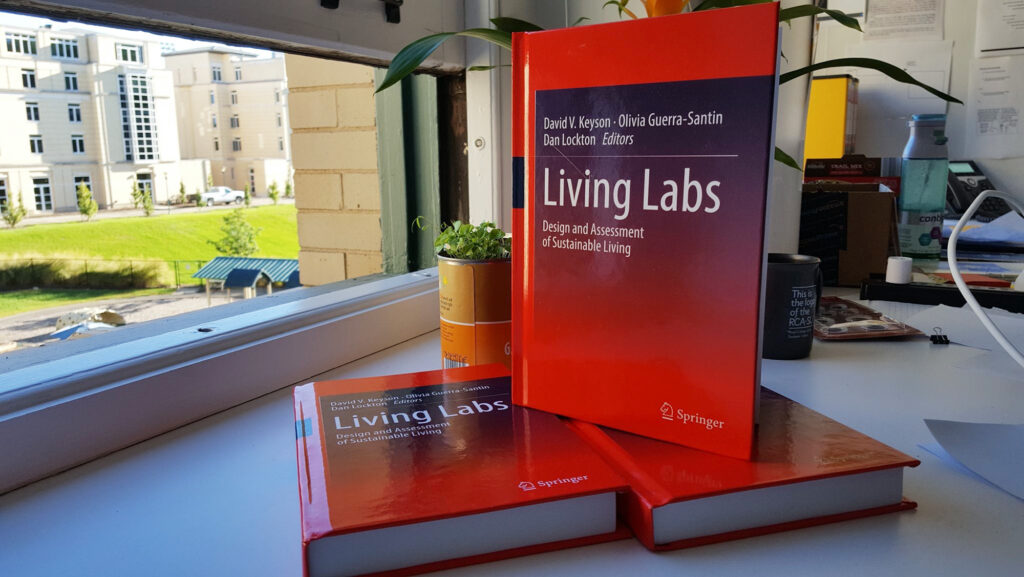 Living Labs: Design and Assessment of Sustainable Living
David V. Keyson, Olivia Guerra-Santin, Dan Lockton (editors)
Springer, Cham, 2016, 408pp. ISBN 978-3-319-33526-1 (hardback); 978-3-319-81536-7 (softback); 978-3-319-33527-8 (eBook). Publisher link
This book presents the results of the multi-year SusLabNWE project with Living Labs in Germany, the Netherlands, Sweden, and the UK.

Living Labs are promising research, design, co-creation and communication facilities for the development and implementation of sustainable innovations in the home. The book provides an inspiring introduction to both the methodology and business modelling for the Living Lab facilities. Understanding daily living at home is key to designing products and services that support households in their transition to more sustainable lifestyles. This book not only explores new ways of gaining insights into daily practices, but also discusses developing and testing design methods to create sustainable solutions for households. These new methods and tools are needed because those available are either ineffective or cause rebound-effects. Intended for researchers and designers with an interest in the transition to sustainable lifestyles, it also appeals to company leaders interested in new ways of developing sustainable innovations and offers suggestions for effectively applying Living Labs for sustainable urban development.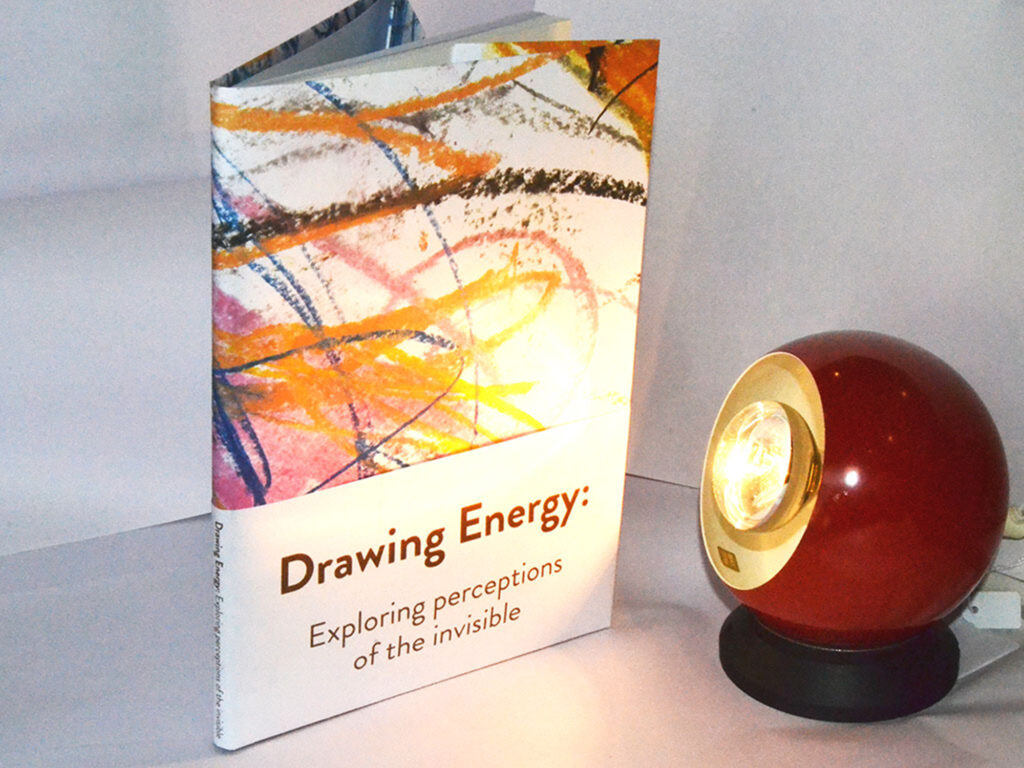 Drawing Energy: Exploring Perceptions of the Invisible
Flora Bowden, Dan Lockton, Rama Gheerawo, Clare Brass
Design by Hannah Montague
Royal College of Art, London, 2015, 96pp. ISBN 978-1-910642-10-8. Book website with download
Drawing Energy describes a drawing-based research project undertaken by the Royal College of Art as part of SusLabNWE (2012-15). The project explored people's perceptions of energy, by asking them to write, draw or illustrate their thoughts and reactions to the question 'What does energy look like?' Over 180 members of the public took part in the process.

The larger SuslabNWE study saw 11 partners from Germany, the Netherlands, Sweden, and the UK come together to understand and investigate energy use in the home. At the Royal College of Art, we looked at bringing together two ideals and practices around inclusive design and sustainability. Both often have different starting points and deal with different scales. Inclusive design usually focuses on people's needs and capabilities at the domestic scale, while sustainability embraces complexity and systems thinking, addressing systemic change. Drawing Energy negotiates a space between the two, bringing together people's aspirations and perspectives with the context of socio-political mandates and changing infrastructure or technologies. The study also moves beyond the idea of purely functional research (such as numerically measuring energy use) to depict the less tangible area of how people relate to energy in a visual, literal or metaphorical way—it takes us from data 'performance' through to human 'perception'. The work represented in this collection builds on a history of using drawing as a tool for research and as a way to enable people to express their ideas and imagination fully.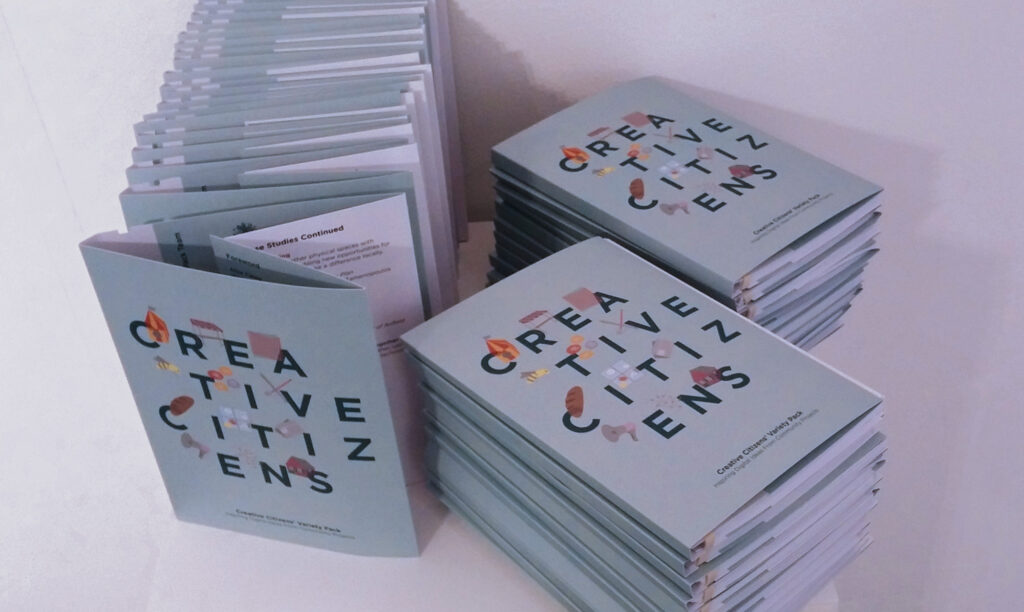 Creative Citizens' Variety Pack: Inspiring digital ideas from community projects
Dan Lockton, Catherine Greene, Alice Casey, Elizabeth Raby, Abbie Vickress (editors)
Royal College of Art, London, 2014, 90pp. ISBN 978-1-907342-97-4. More details and downloads. Helen Hamlyn Centre for Design page.
The Creative Citizens' Variety Pack is a collection of practical case studies: 12 diverse, inspirational community projects, all making use of digital tools in creative ways for social benefit, with suggestions and advice from the people involved.

Along with projects from the three strands of the Creative Citizens project—hyperlocal publishing, community-led design and creative networks—we invited contributions from people working on interesting projects around the country, from beekeepers to bakers, storytelling to social media, and newspapers to graphic novels. Many of these projects are part of Connected Communities, a UK-wide programme designed to help connect community groups with academic research, jointly funded by the Arts and Humanities Research Council and Engineering and Physical Sciences Research Council.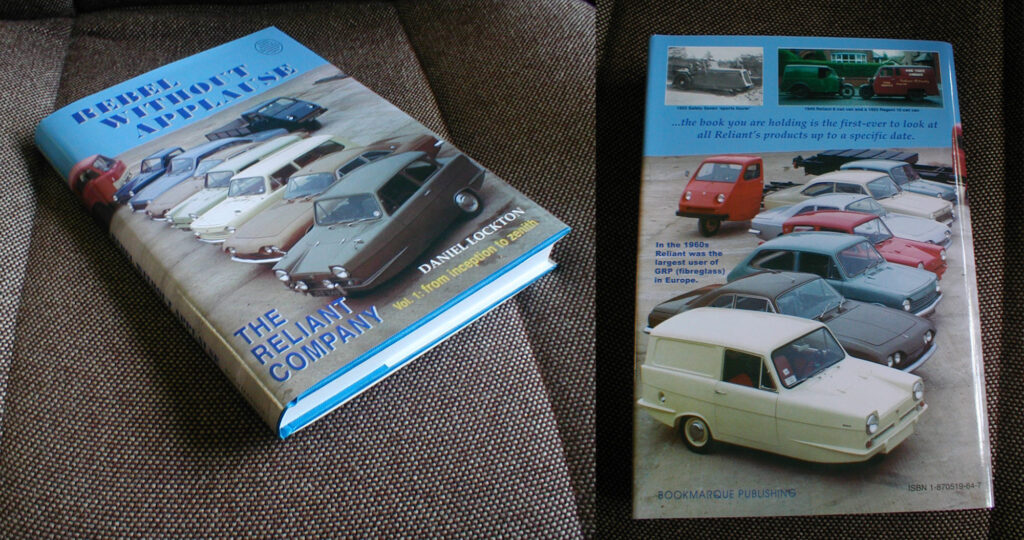 Rebel Without Applause: The Reliant Company From Inception to Zenith
Daniel Lockton
Bookmarque, Minster Lovell, 2003, 256pp. ISBN 978-1-870519-64-9. More details (very out-of-date).
The first ever detailed history of Reliant, covering the company's development from its insecure beginnings in the 1930s to the years of dynamic growth in the 60s and 70s when Reliant 3- and 4-wheelers dominated the specialist and sports car markets. Reliant's pioneering work in setting up the Israeli, Greek and Turkish motor industries is also extensively covered.
Lockton, D. (2003) Rebel Without Applause: The Reliant Company from Inception to Zenith, Minster Lovell: Bookmarque 2003. (ISBN 978-1-8705196-4-9 print)
Nodder, C. (2013) Evil by Design: interaction design to lead us into temptation, 2013, New York: Wiley [Technical editor]. ISBN 978-1-11842214-4.
Lockton, D., Singh, D., Sabnis, S., Chou, M. (2019). New Metaphors: A Creative Toolkit for Generating Ideas and Reframing Problems. Pittsburgh & Dawlish: Imaginaries Lab, ISBN 978-0-9565421-2-0 (print) ISBN 978-0-9565421-3-7 (PDF)
Lockton, D., Harrison, D.J., Stanton, N.A. (2010) Design with Intent: 101 Patterns for Influencing Behaviour Through Design v.1.0, Windsor: Equifine 2010 (ISBN 978-0-9565421-0-6 print; 978-0-9565421-1-3 free eBook)
Lockton, D. (ed.), Urban, M., Albaugh, L., Petrich, J., Zea-Wolfson, T., Deng, E., Chun, J., Song, A., Lee, S., Allred, C., Wang, J., Fu, Y., Sieh, Y., Costes, C., Karavdic, E., Ploehn, C., Koid, S., Lin, D., Kim, R., Prindible, M., Geiger, M. (2019). Climate Pathways: Projects from the Imaginaries Lab. Pittsburgh & Dawlish: Imaginaries Lab, ISBN 978-0-9565421-4-4.