Order the printed cards
From Design with Intent Toolkit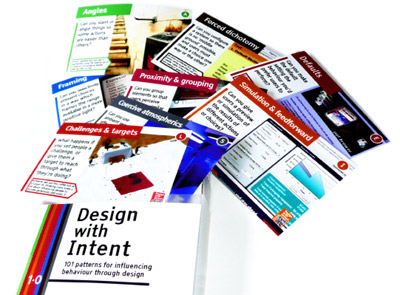 Order the printed Design with Intent cards
The Design with Intent cards are
free to download
and share under
a Creative Commons licence
, but if you'd like to order a printed set, you can do so here. The printed cards are being sold at a price to cover the costs of the project only, non-commercially, with no profit involved. What do you get for your money? The 117 cards are printed as 6" × 4" (150 × 100 mm) photos, single-sided, and presented in a polypropylene box.
To order via PayPal, please use the button below. If you'd like to order multiple sets of cards, please change the quantity after clicking the 'Buy now' button. If ordering 8 or more packs, please
email me
first to check stock availability and whether a cheaper shipping method might be appropriate. If you prefer not to use PayPal, please
email me
and I'll let you know my details for a bank transfer or cheque. Please note that I produce the sets of cards in batches, to order, rather than keeping many in stock, so please allow 28 days for delivery.
Thanks for your support!
The printed cards are temporarily unavailable to order. Please download them instead until this issue is fixed.