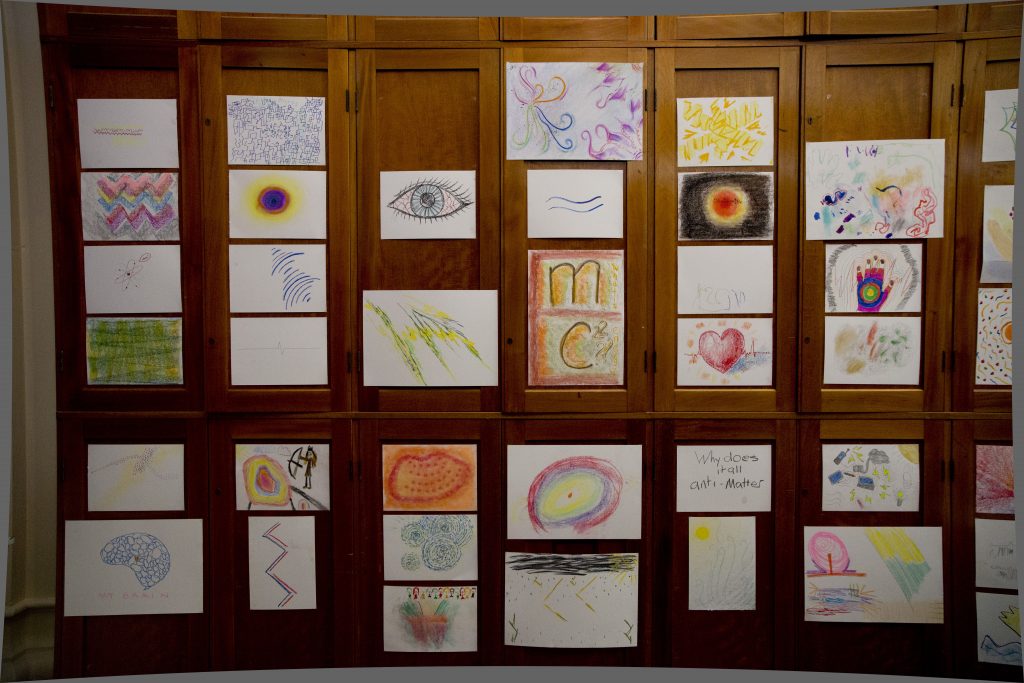 Drawing Energy describes a drawing-based research project (2013-15) undertaken by Flora Bowden and myself, at the Royal College of Art's Helen Hamlyn Centre for Design and SustainRCA, and through events at the V&A and Derby Silk Mill. The project explored people's perceptions and understanding of 'energy', by asking them to draw or illustrate their thoughts and reactions to the question 'What does energy look like?'. The project was funded by INTERREG IVB as part of the SusLabNWE programme.
Over 180 members of the public took part in the process, revealing a huge variety of mental imagery with some interesting themes emerging, and insights of value to anyone seeking to design, communicate or research around human experience of energy in everyday life. The project has been highlighted by the UK Energy Research Centre in a recent news bulletin. Themes from this project have informed some of the approaches taken by the Imaginaries Lab at Carnegie Mellon.
▶ The book, drawings and discussion have a dedicated website
Bowden, F., Lockton, D., Gheerawo, R. and Brass, C. (2015). Drawing Energy: Exploring perceptions of the invisible. London: Royal College of Art. ISBN 978-1-910642-10-8. Editor: Rama Gheerawo. Book design: Hannah Montague (download PDF).
Bowden, F., Lockton, D., Gheerawo, R. & Brass, C. (2016). 'Participatory Drawing in Ethnographic Research'. In: David Keyson, Olivia Guerra-Santin, and Dan Lockton (eds.), Living Labs: Design and Assessment of Sustainable Living. Springer, Berlin, p.

179-190

. (download PDF)
Bowden, F., Lockton, D., Gheerawo, R. & Brass, C. (2014). 'Drawing Energy: Exploring the Aesthetics of the Invisible'. IAEA Congress 2014: Congress of the International Association of Empirical Aesthetics, 22-24 August 2014, New York (download PDF).