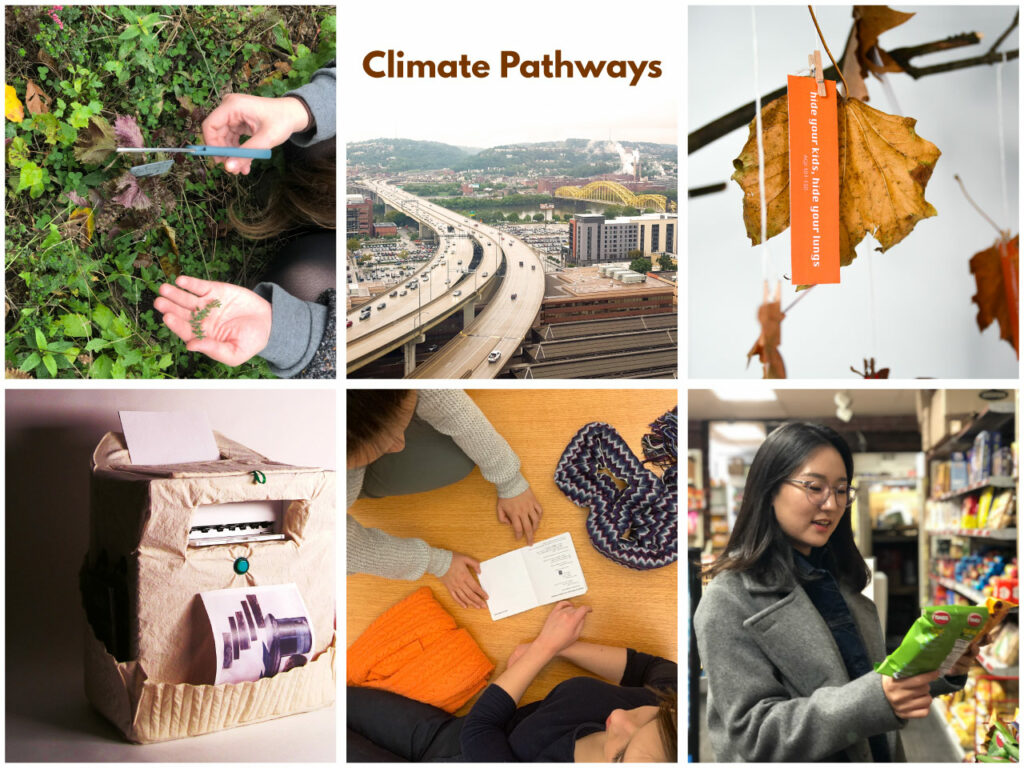 Dan Lockton, Megan Urban, Lea Albaugh, Julia Petrich, Tammar Zea-Wolfson, Elena Deng, Judy Chun, Antonio Song, Sharon Lee, Coco Allred, Joyce Wang, Yixiao Fu, Yingli Sieh, Chris Costes, Ema Karavdic, Cathryn Ploehn, Shawn Koid, David Lin, Rachel Kim, Matt Prindible, Matt Geiger
Imaginaries Lab, 2019, 40pp. ISBN 978-0-9565421-4-4 (open access PDF)
How do we imagine the climate crisis? In an era of urgency for some and apathy for others, where Greta Thunberg and Donald Trump are 'thought leaders' in very different ways, what futures do we understand, or can we envision, for our own communities or others? It's easy to be completely overwhelmed with powerlessness, and the complexities and uncertainties of the situations we might have ahead of us.
International bodies such as the IPCC, and climate science researchers, have the idea of plural 'pathways' which give insights into possible futures for humanity, but what could they look like in everyday life? How might we actually experience these pathways?
The five projects in this book, produced by interdisciplinary student teams in Pittsburgh in fall 2019, tackle these questions from a variety of directions. As part of the Imaginaries Lab's Research Through Design studio class—an experimental format running over three weekends, a month apart—we took inspiration from the notion of climate pathways and explored the issues through team projects which each came to focus on specific facets of everyday life. This book also includes essays by Megan Urban and Matt Geiger, exploring the background to the 'shared socioeconomic pathways' model and a personal perspective on reframing climate action. Over the three weekends and in between, we are lucky to have had guest speakers and visiting critics, in person and remotely, including Katja Budinger (Fjord), Charlotte Kessler (Queensland University of Technology), Stuart Candy (CMU), Györgyi Gálik (Design Council and Royal College of Art), and Muireann McMahon and Niall Deloughry (University of Limerick), and, as part of the Plurality University Network's Many Tomorrows Festival, we had a collaborative creative charrette with Elliott Montgomery's students at Parsons School of Design in New York, 'Rebuilding the ship as we fly it'.